Welcome to Exeter Junior Baseball & Softball League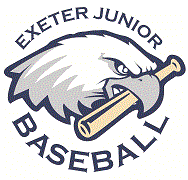 ---
REGISTRATION for the 2019 CAL RIPKEN & BABE RUTH BASEBALL SEASONS IS OPEN!!!

We are excited to start our 2019 EJBSL season!!
Registration Instructions: 
- Please click on Registration >> Baseball >> View Details to sign up.  
- Register by January 31st to receive an early-bird discount of $10.  
- Each additional sibling also receives a $20 discount.  
New to our website?  Registration is a two-step process.  

Step 1:  First, create a family profile and add your player(s) information.

Step 2:  Then, register your child as a "Free Agent" in the appropriate age division.

NOTE:  A copy of your player's birth certificate is required to complete the registration process.
Returning member?  Registration will be a snap!  

Make sure to log into your dashboard using the "login" button is at the very top of the page -- above the EJBSL banner.

Register your player in the appropriate age division.

Other Items to note...
Financial Aid:
We offer full and partial financial aid.  Simply click on the appropriate box during registration.

We are a proud partner of the #AreUin? program.
EJBSL League Structure:
Cal Ripken League (6-12 year olds)
Our divisions / leagues are age and skill based.

We have leagues for all skill levels.

Rookie League is coach-pitched league for 6, 7, and 8 year olds (as of April 30, 2019) who are making the transition from t-ball to player pitched baseball.   ($75)
A League (aka "Single A") is an introductory league for 9 and 10 year olds (as of April 30, 2019) and is the first level of player-pitched baseball.  The emphasis is on learning the game of baseball.  In the past, we have allowed some 8 year olds to try-up into A League.  During registration, if you wish, please select the box stating you'd like to have your child evaluated for A League.  ** We do not guarantee that any 8 year olds will be allowed to play-up in A League ** ($100)
AA League (aka "Double A") is a more advanced league for 9 and 10 year olds (as of April 30, 2019) who have been evaluated as having more advanced baseball skills.  ($135)
AAA League (aka (Triple A") is an intermediate league for 11 and 12 year olds (as of April 30, 2019) who are still developing their baseball skills and learning the nuances of the game.  ($135)
Majors League is an advanced league for 11 and 12 year olds (as of April 30, 2019).  Major league games are played on a larger - 70 foot base path diamond (50 foot pitching distance).  The 70 foot diamond is a good transition between the 60 foot diamond and the 90 foot diamond that all middle school and beyond play on.  This is the significant difference between Cal Ripken League and Little League; Little Leagues only play on 60 foot diamonds regardless of age or skill level.  ($135)
We play baseball on fields in all towns -- Brentwood, East Kingston, Exeter, Kensington, and Newfields.  

Babe Ruth League (13-18 year olds)
Babe Ruth 13-14 year-old League:  Exeter Babe Ruth (EBR) fields teams of 13-14 year-olds that play against teams from Newmarket, Stratham, Sanborn, Epping, Hampton, and Northwood. This league is a transition league for players as they transition from the 60/70 foot diamonds to the full-sized 90 foot diamond.
Babe Ruth 15-16 year-old League: EBR fields teams in the Exeter Babe Ruth League for kids ages 15-16.
Senior Babe Ruth League: EBR fields teams in the Seacoast Babe Ruth League for kids ages 16-18. The Seacoast League is made up of teams from Portsmouth, Hampton, Stratham, Barrington, Farmington and others. The season starts around the second week of June and runs through July with playoffs.
Cal Ripken League Evaluations:
All 9-12 year olds will be required to go through an evaluation process to determine each player's skill level against kids of a similar age.  

We may allow 8 year olds to try-up for our A league, however this is based on player and team quantities and we do not guarantee that any 8 year olds will be allowed to play-up.

We hire professional baseball coaches from Seacoast United to perform our evaluations.  This removes bias from the evaluation process.

Evaluations will be held the morning of Saturday, March 9th at Seacoast United's Epping indoor facility.  Each evaluation will be held by age group and will be approx. 1:15 hours long.  Evaluations are only held for 9-12 year olds and 8 year olds trying-up**
For those 9-10 year old players who evaluate into our AA League, EJBSL will invoice an additional $35 due to price differences between A League ($100) and AA League ($135).
Exeter Babe Ruth League (13 - 18 year olds) does not conduct evaluations.  Players are assigned to teams by our Babe Ruth Director and Board Members.
Equipment:
Our registration fee includes a uniform jersey and hat.

Each EJBSL team is supplied with team equipment including bats, helmets, and catching equipment.   

Players are responsible for providing a baseball glove, gray baseball pant(s), cleats (not mandatory), helmets (if desired), USABat approved baseball bat (if desired)

Only USABat approved bats are allowed in our league.

Used Equipment Drive
We collect used equipment during our evaluations.  This has been extremely successful in recent years.

Please bring all gently used equipment including:  baseball pants, cleats, socks, gloves, batting helmets, and USA Bat approved baseball bats.   Leave them in the bins provided.

Equipment will be distributed at our league photo night on or around Wednesday, April 3rd (date to be confirmed).
For More Information:
Please see our menu of informational items under "About Exeter Jr. Baseball" and "About Exeter Babe Ruth"
Please feel free to reach out to Mike LaNigra (mlanigra72@gmail.com) or Derek Wyskiel (registerejbsl@gmail.com) with any questions.
---

Upcoming Board of Directors Meeting


Board meetings are typically held the first Thursday of the month at the Exeter Sr. Center on Court Street in Exeter
Upcoming Meetings: 
Thursday February 7th, 2019 at 7:00PM
Thursday March 7th, 2019 at 7:00PM
Thursday April 4th, 2019 at 7:00PM
Where:  Exeter Senior Center  
ALL ARE WELCOME TO ATTEND!!!

---
2019 EJBSL Board of Directors
Our Annual Meeting was held on Thursday, October 4th at the Exeter Senior Center.  Congratulations to our newest board members Travis Schoppmeyer and Mike Wissler!!  Our sincere gratitude go to our outgoing board members Tim Bond (4 years served) and Paul Imbimbo (6 years served)!!!  
Here are the new officers and appointments for our 2019 season
Officers:
President:   Mike LaNigra (re-elected)
Vice President:  Eric Roffman (re-elected)
Treasurer:  Tom Jelinek
Secretary:  Chris Crombie (re-elected)
Equipment:   Brian Hoyt
Fields & Facilities:  Mike Wissler (newly elected)
Appointments:
Babe Ruth Director:  Shawn Roussin (re-elected)
Softball Director:  Steve Singlar (re-elected)
Fundraising & Sponsorship:  Travis Schoppmeyer (newly elected)
Publicity / Safety / Picture Day:  Steve Kavanaugh (re-elected)
Registrar:  Derek Wyskiel  (re-elected)
Rookie League Coord.:  Russ Dean  (re-elected)
Master Scheduler:  Scott Battles
Snack Shack:  Peter Zaimes
Umpire Coord.:  Rick LaFleur (re-elected)
Uniforms:  Todd Gibbons (re-elected)
Thank you to each of these individuals for their dedication and hard work throughout the year!!  
---