Welcome to Exeter Junior Baseball & Softball League
---
Playoff Baseball!
Please note:  Championship game times are subject to change.  Final game time will be posted Thursday.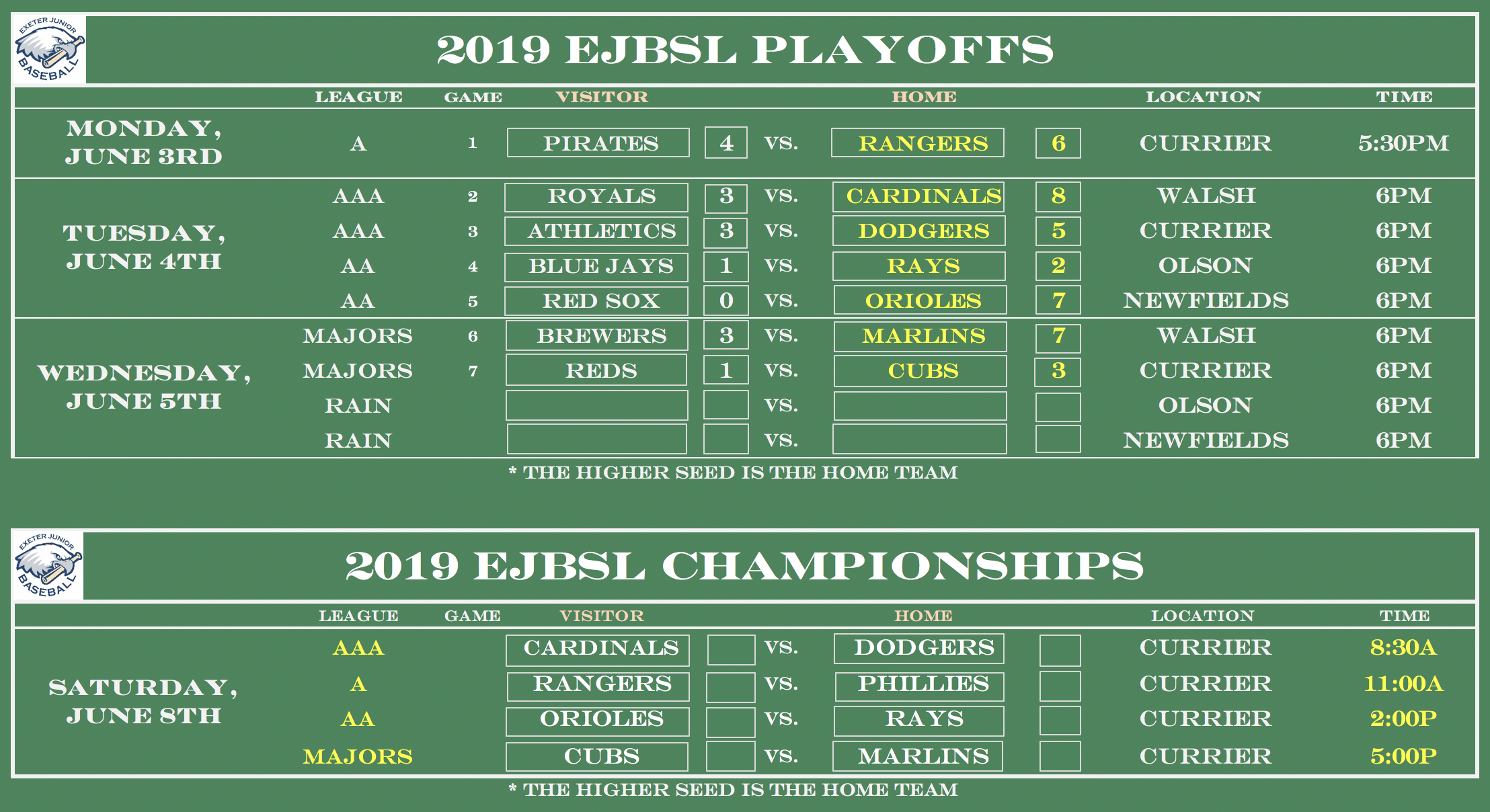 ---
Opening Day Ceremony
Congratulation to our two Meritorious Service Award Winners:   Lee Rollick and Paul Imbimbo
---
2019 EJBSL Board of Directors
 Our sincere gratitude go to our outgoing board members Tim Bond (4 years served) and Paul Imbimbo (6 years served)!!!  
Here are the new officers and appointments for our 2019 season
Officers:
President:   Mike LaNigra (re-elected)
Vice President:  Eric Roffman (re-elected)
Treasurer:  Tom Jelinek
Secretary:  Chris Crombie (re-elected)
Equipment:   Brian Hoyt
Fields & Facilities:  Mike Wissler (newly elected)
Appointments:
Babe Ruth Director:  Shawn Roussin (re-elected)
Softball Director:  Steve Singlar (re-elected)
Fundraising & Sponsorship:  Travis Schoppmeyer (newly elected)
Publicity / Safety / Picture Day:  Steve Kavanaugh (re-elected)
Registrar:  Derek Wyskiel  (re-elected)
Rookie League Coord.:  Russ Dean  (re-elected)
Master Scheduler:  Scott Battles
Snack Shack:  Peter Zaimes
Umpire Coord.:  Rick LaFleur (re-elected)
Uniforms:  Todd Gibbons (re-elected)
Thank you to each of these individuals for their dedication and hard work throughout the year!!  
---